The best retrospective web tool
Most Agile Coaches and Scrum Masters run in circles and only treat superficial symptoms. The Retrospective Web Tool Echometer uses psychology to promote a sustainable mindset change in agile teams.
Why Echometer is the best free retrospective web tool
Compared to other Scrum Retrospective Tools & Boards (see below), Echometer fully embraces science-based team development: retros remain fun and simple, while team maturity becomes measurable over time.
What You Will Love About Echometer
With Echometer you develop teams and organizations in a sustainable and measurable way
Stimulate lasting change by activating your team's self-reflection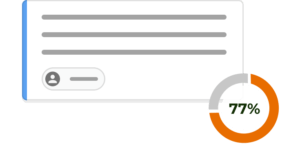 Enjoy watching your team solve their problems independently
Impress your manager with clear metrics about your coaching success
Free Retrospective Web Tool
Intuitive and flexible facilitation for your retrospectives
Free Retrospective Web Tool
Make the success of retrospectives measurable
🎥 Feature overview of the Retrospective Web Tool in one minute
Looking for a free retrospective web tool? Then check out the Echometer Retro Board:
Why is Echometer better than the alternatives?
The Retrospective Web Tool Echometer is the only tool that combines the critical features of good retro tools: Whiteboards, Retro Boards, Surveys and Health Checks. And yet retros remain simply and intuitive.
Evaluation criteria
Echometer
Retrium Board
Team Retro
FunRetro former EasyRetro Board
Parabol Board
MetroRetro Board
Interactive online retrospectives
Yes
Yes
Yes
Yes
Yes
Yes
Automatically generated retro summaries
Yes
Yes
Yes
Yes
Yes
Yes
Supported facilitation
(Check-In Generator etc.)
Yes
Yes
Partially
No
Partially
Partially
Templates for every level of team maturity
Yes
Partially
Partially
No
No
No
Continuous tracking of action items
(retro to retro)
Yes
Partially
Partially
No
Yes
No
Team development measured over time
Yes
Partially
Yes
No
No
No
Collecting feedback before retros (optional)
Yes
No
No
No
Yes
No
Organizational Health Checks
Yes
No
No
No
No
No
Health Check Item Pool
with nudges (food for thought)
Yes
No
No
No
No
No
Mobile Device Support
for on-site retros
Yes
No
No
No
No
No
Integrated Online-Whiteboard
Yes
No
No
No
No
Yes
Data protection (developed and hosted in Europe)
Yes
No
No
No
No
No
Free version (after trial)
Yes
No
No
Yes
Yes
Yes
Users about the Echometer Retrospective Web Tool
Try a Practice Round of Echometer
Join thousands of Agile Coaches in making team development more engaging - and measurable! 
Convince yourself of the best Retrospective Web Tool
Just pick one of our carefully crafted retro formats and get started:
Free of charge and without registration.